Elevate Your Celebrations with Exquisite Elegance!
Are you ready to turn your special occasions into extraordinary celebrations? Welcome to PurlyNude Jewelry, where we bring the enchantment of exquisite jewelry directly to your doorstep. As a luxury mobile permanent jewelry service, we specialize in elevating gatherings with your loved ones. Whether it's a dazzling, wedding, bridal shower, a milestone-filled birthday, or any event deserving of distinction, PurlyNude Jewelry is your partner in crafting moments that shimmer with timeless allure.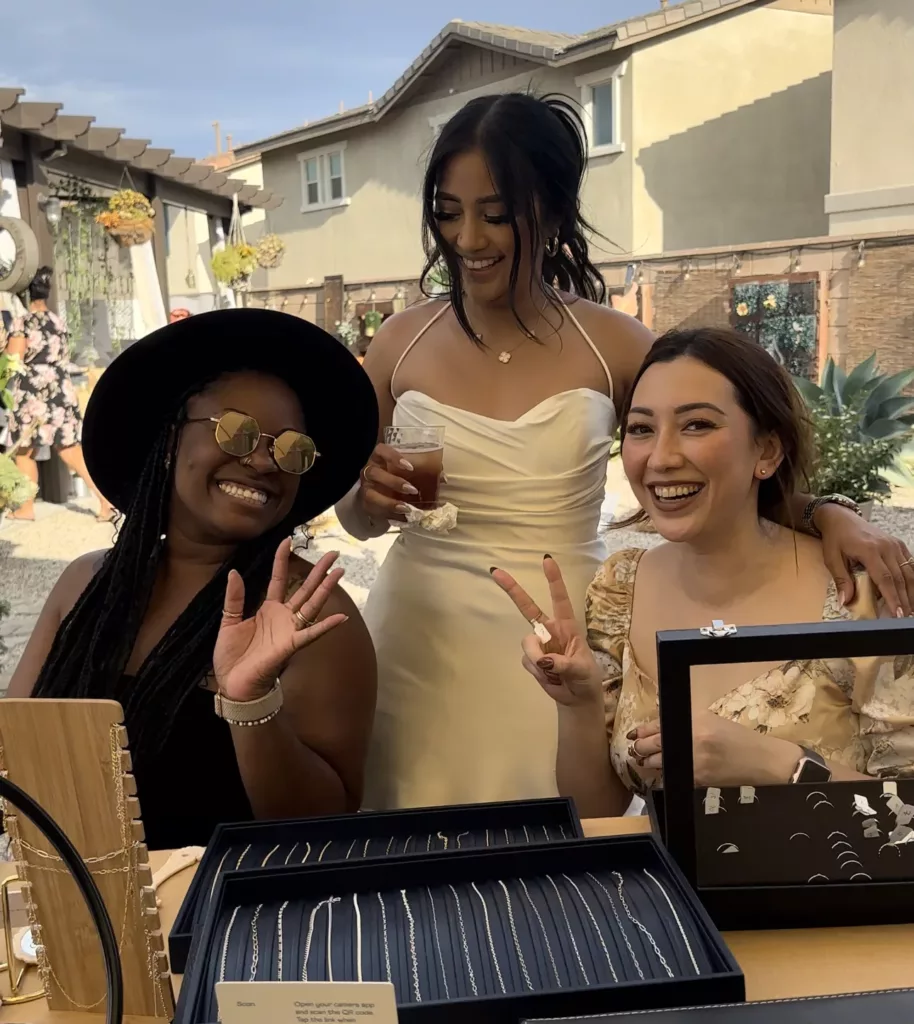 Why Choose PurlyNude Jewelry for Your Celebrations?
An Unparalleled Experience: Immerse yourself in the world of PurlyNude Jewelry, where luxury meets convenience. Envision a jewelry boutique transformed into a captivating experience at your chosen location. Our collection boasts an exquisite range, including 14k Solid Gold, 14k Gold Filled, and 925 Sterling Silver pieces – each an embodiment of sophistication and beauty.
A Celebration of Connections: Gather your closest companions and make memories together. At PurlyNude Jewelry, we celebrate togetherness. When you invite 5 or more friends or family members, distance is no barrier – we come to you without additional charges. It's more than a jewelry event; it's an opportunity to strengthen bonds and revel in shared experiences.
Curate Your Story with Charms: Our jewelry transcends trends; it tells your story. Choose from an array of charms and authentic birthstone options, allowing you to create bespoke pieces that resonate with your journey. Every pendant, bracelet, and earring becomes a cherished memory, a testament to your unique style.
Affordable Opulence: Hosting a PurlyNude Jewelry gathering is effortless and economical. Our commitment to transparency means no hidden fees – only the cost of the pieces you adore, plus applicable taxes. It's luxury made accessible, wrapped in a seamless and elegant experience.
Moments Designed to Dazzle: From radiant bridal soirées to jubilant birthdays, PurlyNude Jewelry adds a touch of grandeur to every event. Whether it's a proposal, a baby shower, or a reunion of friends, we infuse sophistication into every facet of your celebration.
Booking Your PurlyNude Jewelry Celebration: A Seamless Experience
Reach Out to Us: Connect with our attentive team to discuss your event and preferred date. We're here to guide you through the process and ensure your celebration sparkles.
Gather Your Clique: Invite 5 or more friends or family members to create a splendid gathering that's exempt from additional charges. The more, the merrier!
Personalized Selection: On the day of your event, delve into our captivating collection featuring 14k Solid Gold, 14k Gold Filled, and 925 Sterling Silver pieces. Our experts will help you curate pieces that mirror your style and essence.
Savor the Moment: Immerse yourself in the allure of fine jewelry while enjoying the company of your loved ones. Revel in shared laughter, make memories, and take home treasures that immortalize your special day.
At PurlyNude Jewelry, we're dedicated to transforming every occasion into a luminous memory. Elevate your celebrations with us – the ultimate fusion of elegance and convenience. Let your story shine, one charm at a time. Contact us today and embark on a journey of refined beauty, seamless elegance, and cherished connections.
Book us at Bookings or DM us on Instagram
Crafting Elegance, Celebrating You – PurlyNude Jewelry